DATA CATALOG
The concept of Open Data is about making data held by public bodies available and easily accessible online for reuse and redistribution. As public bodies have progressed in areas like eGovernment and data analytics, the potential of data and, in particular, Open Data to help deliver economic, social benefits has become clearer. The data.tusla.ie portal brings these datasets together in a single searchable website.
Data.tusla.ie is intended to provide easy access to datasets that are free to use, reuse, and redistribute. The performance reporting site is operated by the Tusla Quality Assurance Directorate with the assistance from Tusla ICT.
Tusla is committed to implementing current government initiatives in the area of Open Data
Tusla aligns itself to the principles of Public Service Data Strategy 2019-2023
The current open datasets available from Tusla are available from the Tusla Data Catalogue
The Tusla GeoHub (right) contains Geographical Tusla Datasets such as the map shown on the right.
This dataset contains the defined Area IDs, Region IDs and Lookup Codes in use in the organisation.
The standardisation of these reference values and codes across all enterprise systems is a key goal of Tusla Data Team.
Tusla will be implementing further developments in the area of open data in line with current government initiatives and enhancements in the maturity level and capability of the organisation.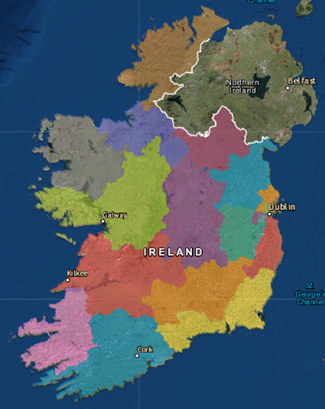 NDIOC and Tusla Open Data Governance Board
Open Data has been recognised by the Government as having a powerful role to play in the Public Service Reform agenda. Accordingly, Open Data is an important element of a wide variety of key policy documents and action plans. The Public Service ICT Strategy, in particular, identifies data as a critical enabler of Public Service Reform, facilitating "increased data sharing and innovative use of data across all Public Bodies to enable the delivery of integrated services, improve decision making and improve openness and transparency between Government and the public". The ICT Strategy recognises Open Data as a priority and will support the development and adoption of an evidence-based Open Data policy for the Irish Public Service.
An Open Data Governance Board (ODGB) has been established to provide strategic leadership and governance in line with best international practice in the area of Open Data. It is tasked with considering how to improve the capacity and capability of public bodies in implementing Open Data, and considering opportunities to maximise the value of public sector data and information for long-term economic, social and democratic benefits. The ODGB will make recommendations to Government in this regard. Membership of the board is available here. The ODGB's Mandate allows them to consider how to ensure an Open Data Initiative that meets the needs of users and helps public bodies to plan their activities accordingly and encourage an ongoing collaborative process